Sending Excess Baggage, is Now Quite Comfortable, Without Any Pain and Ache
---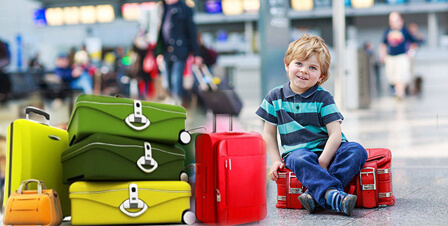 Before going ahead on the subject matter, let us have a look at what does an excess baggage or unaccompanied baggage, whatever you name it, mean? It is really problematic and stirs you all of a sudden. You are, frankly speaking, left nowhere, when at airport while proceeding to your homeland of Pakistan or Mirpur or other parts of Azad Jammu and Kashmir you are intimated that you cannot accompany with you excess baggage. This sudden mishap stirs you severely and a new difficult unseen chapter is opened before you.
Why to Choose Us?
You need not to be panic in context of aforementioned situation as a Star Cargo is on forefront and standing with you to send cargo to Pakistan and around AJK. To mitigate your worries, we have devised a well-equipped and cost effective package for Excessive Baggage that is especially tailored for you. Our cheap rates are matchless and suite you in every respect. Being your personal effect, it becomes incumbent upon us to have due care of it during the transit phase of your luggage.
The matchless and unique services of a Star Cargo would never let you go away to some other company for sending your goods. Our amazing and unbeatable prices will suite you certainly. Our tailor-made Excess Baggage services will compel you to send your excess baggage through us.
Send Unaccompanied Baggage to Pakistan or AJK
We never make any unnecessary late in delivering your Extra Baggage as our exceptional and trusted system makes it possible to deliver you baggage ahead of time to Pakistan or Mirpur or Azad Kashmir. Now your unaccompanied or Extra Baggage (like suitcases, boxes and bags) is not your problem but this is our headache. So you just relax and leave it to us as our well-coordinated Excess Baggage system would deliver your precious baggage to its destination.
The cost is the main concern of every client. Why not, you must have all prior data in this regard that which company suites you the best so that your hard earned money is not wasted. The well trained and friendly staff of a Star Cargo will guide you about the choice of right package and you will be made clear about the exact form of freight you should use for sending your Extra Baggage.
Our Modus Operandi
We very systematically send your requested quote so that you could book your Extra Baggage without any trouble. After that, our representative would collect this baggage and after making some formalities, like weighing, measuring, would sent it to sea port for shipping. But doing all this, you are consistently intimated at every moment.
It goes without saying that pain and ach you get from the Extra Baggage is unbelievable and really miserable. But a Star Cargo provides you the most comfortable and affordable service so as to send this baggage to your homeland where your family is waiting for this. The baggage which crosses the limit allowed by the airline in which you are travelling, is termed as Unaccompanied or Extra Baggage. It is worthwhile to mention that every airline has certain fine schedule in case of extra baggage which you will have to pay at exorbitant rate.
This is a well-established fact that time and tide wait for none. That is why we are always on i.e. 24/7 and have your valuable queries with great pride. Very quickly without loss of a single moment, our experts respond to your queries and guide you properly to take the right decision.
A Sophisticated Management System
Our well established and integrated infrastructure would support us to carry your Extra Baggage from anywhere in the UK. Our marvellous and well-tailored service would lessen your worries and would give you ease and comfort. We are always responsive round the clock and respond to your every query responsibly so that you could choose the right direction.
No doubt after ailing from Extra Baggage, you fell in dilemma of what to do and what to not do. To accommodate your Extra Baggage, our Door to Door service will facilitate you perfectly wherein our representative would collect this baggage from your door step and after having necessary procedural formalities, it would be sent for Sea Cargo.
Effective Tracking System
Our highly sophisticated tracking system assisted by the latest technical inputs, makes it possible to have a vigilant eye over the location of your baggage and in this regard you could have an easy access to know where your baggage is at that particular moment. We have well organised system for tackling the Extra Baggage.
Last but not least, we would like to make some suggestions pertaining to the Extra Baggage. Among these first is, never adopt unplanned journey so that you could avoid the stress and strain of the airports. Try to travel with lighter luggage. Properly pack your belongings in proper boxes or suitcases.
How the Extra Baggage could be Prevented?
You can prevent yourself from extra baggage by:
Having an additional bag which is very costly.
Weigh your baggage before departure
In case any extra baggage, instantly call a Star Cargo to send this Excess Baggage.
Every airline has an extortionate fees for Excess Baggage which would dig your pocket deep. As you have not made some prior arrangements, so you have to accept it or you will have to leave some of your precious baggage at the airport which is a difficult option.