Lowest container shipping rates to Pakistan from UK
---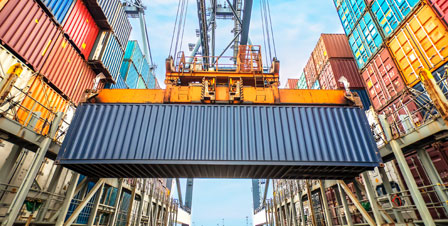 Pakistan- at a glance
Pakistan with an area of 0.30 million square miles having more than 200 million population, is a country with beauteous landscape hosting majestic and stunning sceneries that attract a lot of tourists every year. Its northern snow-clad mountains are home of jaw-dropping scenes in winter. Flora and fauna of the country is unique with very rare species in it. Situated at latitude of 30.3753° N and longitude of 69.3451° E, the country is in north of equator with reference to its GPS Coordinates.
UK opening doors for a super-easy flow of cargo to Pakistan
According to the latest reports of the World Bank, Pakistan is a growing market. It is the second biggest economy of South Asia. There is a great space for the UK businessmen to invest here with their products, brands and expertise as well as, to increase the UK exports relating to goods and services. On the other hand, the UK after Netherlands and China, is the third largest foreign investor in Pakistan.
Import and Export Scenario of UK to Pakistan
Pakistan imports from the UK; Iron and steel, machinery, chemical products, Electrical, electronic equipment, textile articles, pharmaceutical products, organic chemicals while Pakistan too is on the road to expand its export of steel, sports goods, surgical instruments, garments and textiles to the UK. There are various sectors in Pakistani market where the British business men can invest like healthcare, consumer goods, security, energy, infrastructure, education, professional services, and defence.
Commercial Container Shipping
Commercial shipping is entirely different chapter wherein you get minimal prices for your shipment depending upon the volume and regularity. Container Shipping involves standard and reefer containers. Container shipment has now become very fast, convenient and flexible. And you can extend your business in a better way without wasting your precious time. That extra time can be put into you other business activities. The remaining shipment activities are the responsibility of the cargo company you have chosen.
You must be very vigilant in choosing the cargo company for your container shipping and ascertain it fully that the company has expertise in handling the containerised shipping with premium technology and sustainability to Send Cargo to Pakistan.
Global Shipping and Geographic Trade
Luckily now almost all the standard companies like a Star Cargo have global access covering all the countries of the world as air and Sea Cargo. The best companies are adept at handling all the related issues of the container shipping and all the geographic trade hubs are brought in a close contact. All the major trade markets like that of the UK to Pakistan are consistently monitored and evaluated to understand each market's dynamics for certain trade.
Cross Trading Expertise
Cross Trading expertise is a must-have for a cargo company which means that the company should handle all mater relating to cargo origin point and destination point while crossing a country. The international fame cargo companies have a team of professionals who have a hand on the cross trading issues both in sea and Air Cargo. Various factors affect your shipment like berthing delays, transport infrastructure, terminal conditions, custom procedures and local regulatory and political changes.
Safe and Secured Shipment
Containerised cargo is of various types like out of gauge cargo, precious cargo, hazardous cargo, refers (refrigerated) cargo and dry cargo. Each one of these can be selected depending upon the requirement of the customer and luggage. But you must be familiarize about the pricing, tracking facilities, pre and on carriage and other related facilities which you can have from the company. Safe and secured shipment is the pursuit of every customer so that he could ascertain the deal with full content.
There is no arguing that normally every shipment from the UK to Pakistan is carried out either through air freight or Ocean freight depending upon the weight and shape of shipment. This also chosen by the customer himself in accordance with his need and budget. But another mode of cargo which is associated with both the deliveries whether the freight is coming through plane or through ship. That is intermodal transportation and haulage linked with inland deliveries of the shipment. These intermodal services are cumulative transport by road, rail or barge.
The effective and strong monitoring and tracking system is the permanent feature of every globally accepted cargo company like A Star Cargo. This feature enables the company experts as well as the customers to have a continued look at the movement and status of flowing container. And in this way, you are consistently kept updated about your shipment.