Have the Best Cookers & Ovens Shipping with our Strong Cargo System
---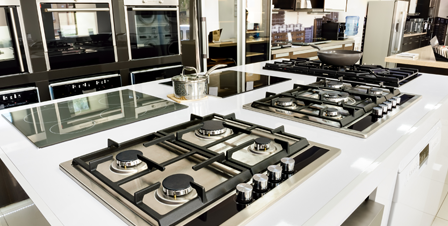 Cooker and oven are great boon and blessing for making various tasty meals aplenty. Ovens are available both electric and gas power. Among these, the gas oven is the right option giving the full intensity of heat for making perfect meals, but if you need steady and even heat, then electric oven would be the best choice, of course.
Cooker assists to cook the meal in a controlled environment of pressure and temperature. Its importance has increased dramatically due to our busy life schedule. By it, the meal could be prepared within no time. That is why its popularity is increasing day by day. Safety is an issue associated with both the cookers and ovens if you ignore maintenance and care.
Dire Need for Kitchen Appliances
This is a well-established fact that the kitchen is the central part of the house where your culinary needs are fulfilled. The kitchen, with all fixed appliances, is preferred instead of free appliances hurdling in ease and comfort. Now there would be hardly anyone who does not have such pleasures in his kitchen, the amenities like refrigerator, hood, hob, oven and cooker. Cookers and ovens make cooking food the shortest time, controlling the temperature desired for individual dishes.
Why Pakistanis Send Electronics from the UK?
The UK has a magnetic attraction for the immigrants, and this led to settle here a big plethora of Pakistanis. These Pakistanis send regularly small and large gifts to their homeland to their relatives and friends to keep in contact with their motherland. Cookers and ovens are being sent to Pakistan and AJK. There is no denying that there is a high demand for these items in Pakistan. Many people in business, too, are associated with exporting the cookers and ovens from the UK to Pakistan.
How to Send the Kitchen's Basic Amenities from UK to Pakistan?
Now the question arises on how to send the kitchen's basic amenities like cookers and ovens to Pakistan and AJK from the UK. If you are moving to Pakistan, then to carry these ovens and stoves is a hectic and uncomfortable job. Upon browsing the net, you would come across various cargo companies with lucrative slogans of hassle-free, affordable, convenient and efficient service. Still, practically these prove zilch, wasting your precious belongings and hard-earned money.
Nothing is Hidden and Kept Secret
Welcoming you on our site, we feel proud to offer you our unique and untiring sincere service wherein nothing is hidden and kept secret that would be demanded from you at the end of the shipping process, making you annoyed. We never claim unnecessary fees and do what is promised. We continually keep you abreast of the movement of the shipment through our high tech monitoring system. We hold ourselves in cargo deliveries ahead of the game and always go the extra mile to discharge our duties.
Our Satisfied Customers
The countless satisfied, our customers are proof of our matchless service that is due to our exhilarating experience that others lack surely. Hundreds upon hundreds of our reliable customers are our assets, and we do yeoman's service to drop their shipment at the indicated destinations within the specified time. It is needless to point out that we anticipate the extra steps to despatch the consignment without any hassle and discomfort.
A Star Cargo Is Ahead of Other Cargo Companies for Send Cargo to Pakistan
Perched atop, A Star Cargo is ahead of other cargo companies. Our reliable value system is palpable in our display of various services and never dare gouge anyone who avails our suite of services. During the shipment flow, we always remain engrossed in our duties and quickly respond to your queries, if any.
Choosing the Best Cargo Company among the Swarms of Countless Companies
It is challenging to select the best cargo company among the swarms of countless companies to send cargo to Pakistan. Indeed, you would take care of many preventive measures before making the final deal. The company's repute and working experiences are of paramount importance for ranking it the best cargo company, worthy of being chosen for sending your cargo to Pakistan and AJK. Many factors, among other things, capacity, experience, organizational setup, affordability, are some of the parameters which are taken into account for the final choice.
Never pay little heed to make the right choice and share your choice with your near and dear ones who have some experience of sending shipments to Pakistan and AJK from the UK. Price and delivery timings need to be noted too.
If we critically have a cursory glance at the export of these kitchen appliances, it is revealed that there is a growing trend in developing countries like Pakistan to adopt the latest technologies. Having luxurious appliances in the kitchen is the outcome of this approach.
Special Handling and Packing
This is pertinent to mention here that the products of cookers and ovens are sensitive and need special handling and packing while sending to Pakistan and AJK. Certainly, shocks and jerks are likely to have. There must be appropriate packing of these products to reach their destination safely and without any damage.
Our active and latest technology-assisted tracking system regularly monitors the movement of the shipment until it reaches its final destination. All the remedial measures are adopted, in case some disturbance occurs during the flow of the shipment sent by you.